A Top Specialist Doctor in New York
Dr. Kaveh Alizadeh is board-certified by the American Board of Plastic Surgery. He is the current Professor of Clinical Surgery of New York Medical College, and the former Chief of Plastic and Reconstructive Surgery at Westchester Medical Center.
From 2007 to 2013, Dr. Alizadeh served as the president of the largest and oldest plastic surgery center in North America, and in 2014, he opened his own private practice with a vision towards the future. He has served as the president of the New York Regional Society of Plastic Surgeons and was also elected as the president of the New York State Society of Plastic Surgeons where he has served on the board of trustees.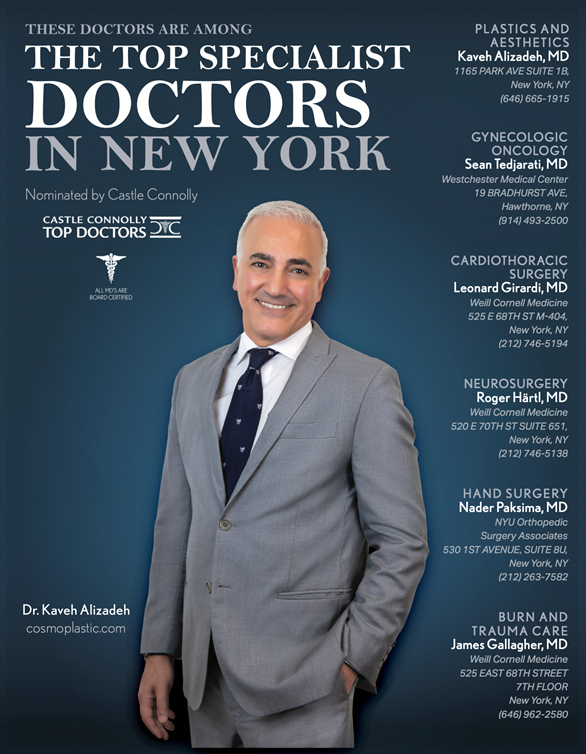 Continuous Contribution To The Field
Dr. Alizadeh directs the Clinical Research Division of Cosmoplastic Surgery, where he has conducted multiple national clinical trials in plastic surgery devices, breast surgery, and injectables for rejuvenation. He is credited with developing a new breast-lift technique, NaturaBra®, as well as "progressive" eyelid-lift and abdominoplasty techniques. Since 2005, he has been recognized as a Top Doctor by Consumer Research Council, and since 2010, a Castle Connolly Top Doctor. Dr. Alizadeh has also received national recognition as a Top Doctor by U.S. News and World Report.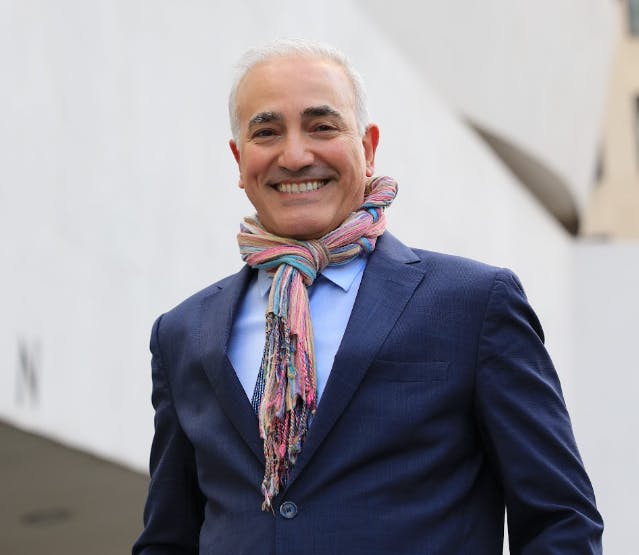 Media & Awards
Dr. Alizadeh has appeared in over 60 media outlets such as CNN, CBS 60 Minutes, NBC Today Show, Discovery Health, Newsweek, Wall Street Journal, and The New York Times. He has authored over 30 publications and has given extensive presentations at the national and international level. In 2009, Dr. Alizadeh's humanitarian volunteer work earned him the prestigious Ellis Island Medal of Honor, an award recorded in the United States Congressional Record. Wide Range Of
Elective Offerings
Dr. Alizadeh specializes in a range of cosmetic and reconstructive surgical procedures, as well as less-invasive treatments. Cosmetic procedures include breast augmentation, lift, and reduction; body contouring, including buttock augmentation and labiaplasty; as well as minimally invasive facial rejuvenation. Reconstructive procedures include migraine surgery and post-cancer breast reconstruction. He also performs the latest non-invasive facial rejuvenation techniques, including injectables such as RADIESSE® (+), Restylane® Silk, Restylane® Lyft, KYBELLA®, JUVÉDERM VOLUMA® XC, BOTOX® Cosmetic, XEOMIN®, Dysport®, JUVÉDERM®, and Sculptra® Aesthetic, for which he is a certified national trainer.
Leaders Across Borders
Dr. Kaveh Alizadeh shares the indivisible journey between his own hard childhood experiences and his calling to train doctors and save lives wherever there is conflict, war and trauma. He is a sought-after motivational speaker because of his personal journey as a refugee, a doctor, and as a teacher. You can see a speech he delivered to over two thousand participants at the 2019 YPO global Leadership Conference in Cape Town, South Africa.
Training
Dr. Alizadeh earned his undergraduate degree from Cornell University and his Master's Degree from Columbia College of Physicians and Surgeons. He then received his MD from Cornell University Medical College, with commendation from the Dean. Dr. Alizadeh completed his General Surgery and Plastic Surgery training at the University of Chicago Hospitals, followed by an additional year of subspecialty training in Cosmetic Surgery, Microsurgery, and Breast Reconstruction at Memorial Sloan Kettering Cancer Center in New York. He has received further executive education training at Harvard Business School. Education

2006-2007: Harvard Business School Executive Program
1990-1993: Cornell University Medical College; New York, New York – Doctor of Medicine, Joseph Collins Award
1988-1990: Columbia College of Physicians and Surgeons; New York, New York – Masters of Science
1986: Sorbonne University; Paris, France - Certificat de la Civilization Francaise
1984-1988: Cornell University; Ithaca, New York - Bachelor of Arts
1981-1984: Dwight Englewood School; Englewood Cliffs, New Jersey - Distinguished Alumnus Award 2005
Director of Cosmetic Surgery at
Long Island, NY's Cosmoplastic Surgery
1999-2000: Fellowship: Microsurgery, Cosmetic Surgery, Memorial Sloan-Kettering Hospital, NY; Manhattan Eye, Ear and Throat Hospital, NY
1998-1999: Chief Resident: Plastic and Reconstructive Surgery, The University of Chicago Hospitals
1997-1999: Residency: Plastic and Reconstructive Surgery, The University of Chicago Hospitals
1994-1997: Residency: General Surgery, The University of Chicago Hospitals; Chicago Positions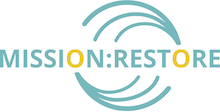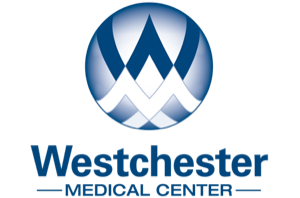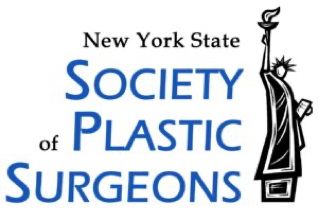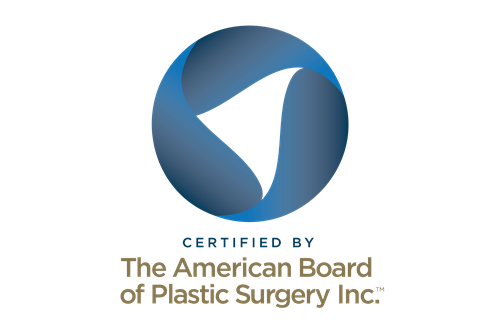 Professor of Surgery
New York Medical College
Founder and
Chairman Of Board
Mission: Restore, which provides clinical services, education, and research for victims of war and trauma around the world
President
Long Island Plastic Surgical Group 2007-2012
Established in 1948, the largest and oldest private academic plastic surgical practice in North America, voted by LI Press as the best plastic surgery practice in Long Island 2008-2012
More
Director Clinical Research, NUMC Plastic Surgery Residency Program 2005-20013
Partner, Long Island Plastic Surgical Group 2000-2013
Course Director, Fresh Cadaver Plastic Surgery Lab 2001-present
Medical Advisory Board, HealthiNation 2009-present
Governing Board Member , Global Medical Relief Fund 2008- present
Chief Medical Officer, Klinger Advanced Aesthetics 2005-2007
Vice-President, Long Island Plastic Surgical Group 2005-2007
Chief of Microsurgery, Winthrop University Hospital 2003-2008
Vice-Chairman, Plastic and Reconstructive Surgery Winthrop University Hospital 2003-2008
Treasurer, New York State Society of Plastic and Reconstructive Surgeons, 2012-present
Treasurer, New York Regional Society of Plastic and Reconstructive Surgeons, 2012-present
Member at Large, Nassau Surgical Society, 2012-present
Medical Advisor, Cytori Corp. 2012-present
Committee Member, Plastic Surgery Educational Foundation 2000-present
Medical Board Member, Klinger Advanced Aesthetics 2006-2007
Membership Committee Director, Long Island Chapter, 2005-present Northeastern Society of Plastic and Reconstructive Surgeons
American Society of Plastic Surgeons

Research and Technology Committee Member, 2011-present
Public Education Committee Member, 2005-2011
Clinical Trials Committee Member, 2009-2011
Malpractice crisis task force 2008-2010
Health Policy Committee Member, 2007-2008
Quality and Performance Measurement 2007-2008

American Society Aesthetic Plastic Surgeons

Practice Relations Committee Member 2007-present

Associate Program Director, Plastic Surgery Residency Program, Nassau University Medical Center 2001-2006
National Trainer, Sculptra Aesthetic 2009- present
Medical Advisor, Life Cell Corporation 2008- present
Medical Advisor, Kensey Nash 2010-present
Medical Advisor, Mentor/Ethicon 2008- present
Course Director, Klinger Advanced Aesthetics 2005-2006 Aesthetic Training Program Award
Medical Advisory Board, Happy Face Foundation 2001-2004