Dr. Alizadeh has inspired and taught medical students throughout his career. He is the former Chief of Plastic and Reconstructive Surgery at Westchester Medical Center, New York Medical College, and a current Assistant Professor of Clinical Surgery at New York Medical College. Dr. Alizadeh trains physicians all over the world and has shared his reconstructive skills with doctors in war-torn Kabul and earthquake-ravaged Haiti, his breast surgery skills in Beijing and Chicago, and his cleft-lip-and-palate techniques in Myanmar and Mexico.
Whether presenting the findings of scientific research, new breast enhancing, or surgical rescue techniques, Dr. Alizadeh has led over 50 peer-reviewed presentations. His innovative discoveries and pioneering techniques have captured the attention of attendees at the American Society of Plastic Surgeons, International Confederation for Plastic, Reconstructive and Aesthetic Surgery, American Society of Aesthetic Plastic Surgery, and many more.
As a published author on subjects ranging from abdominoplasty and forehead rejuvenation to erasing problem scars and improving plastic surgery residency, Dr. Alizadeh continues to share his innovations with the medical world. His articles have appeared in books and journals, including Plastic & Reconstructive Surgery, The Handbook of Plastic Surgery, Journal of Reconstructive Microsurgery, Annals of Plastic Surgery and more.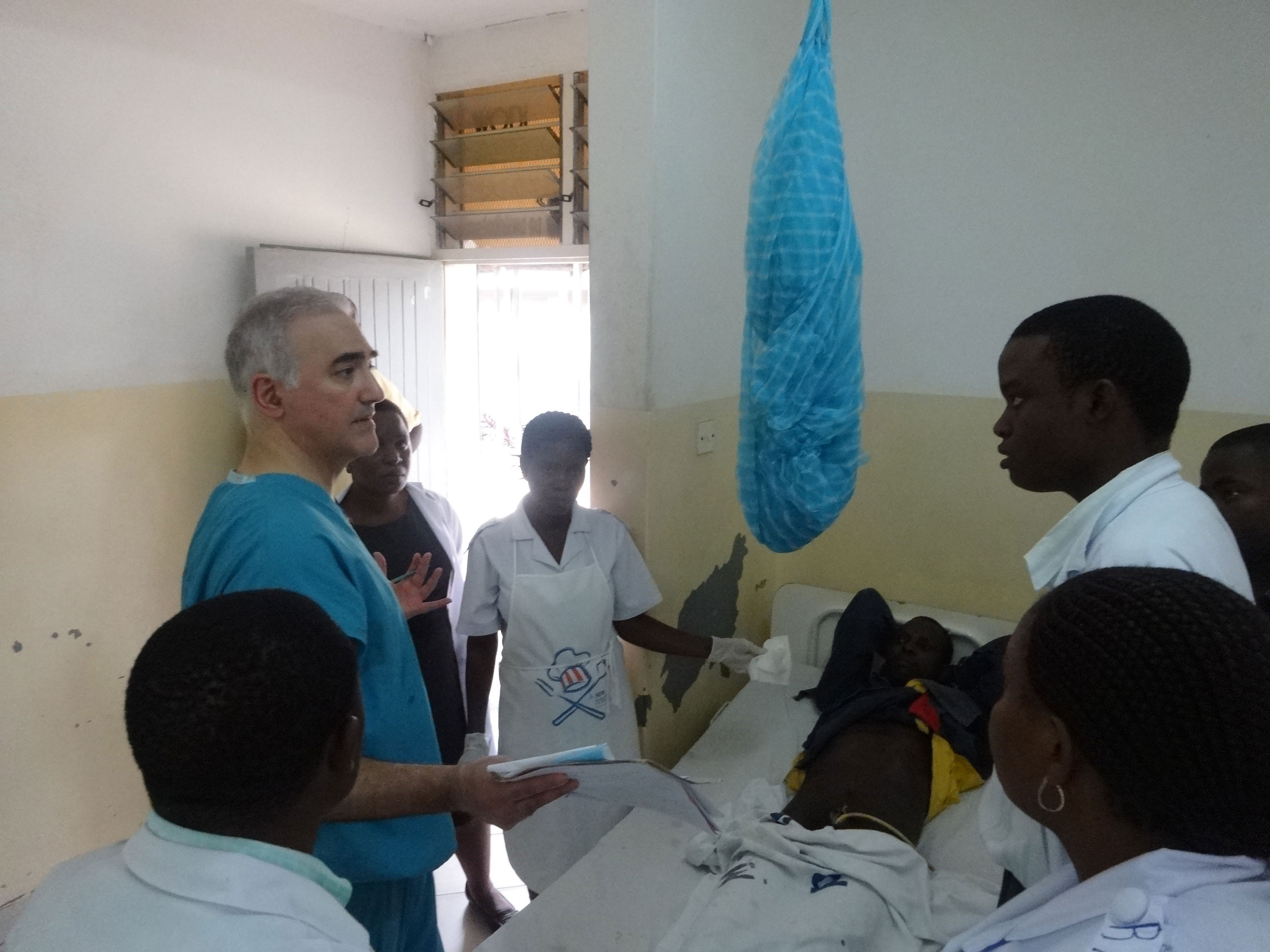 International Physician Training
April 1993 Afghan Refugee Camps
United Nations High Commission for Refugees
November 1998 San Juan, Puerto Rico: San Jorge Children's Hosp.
Cleft lip and palate surgery, Ear reconstruction
March 1999 Oaxaca, Mexico: Manos de Ayuda Clinic
Cleft lip and palate surgery
October 2000 Santa Cruz, Bolivia: Primero de Mayo Clinic
Cleft lip and Palate, Burn Surgery
April 2001 Shiraz, Iran: Namazi University Medical Center
Cleft lip and palate, microsurgery
April 2002 Tehran, Iran: Iran University Medical Center
Cleft lip and palate, burn surgery
November 2003 Sari, Iran: Mazandaran University Medical Center
Smile Train Grant: Cleft Lip and Palate Surgery
May 2004 Kurdistan Iraq/Iran: Kurdistan University hospital
Cleft Lip and Palate/Trauma Reconstructive surgery
November 2005 Mandalay, Myanmar: Mandalay General Hospital
Cleft Lip and Palate, Cancer Reconstruction
November 2006 Beijing, China: Evercare Plastic Surgery Institute
Cleft lip and Palate, Breast Surgery
September 2007 Gilan, Iran
Smile Train Grant: Cleft lip and palate training and surgery
November 2008 Baku, Azerbaijan
Smile Train Grant and Private donations:
Cleft lip and palate training and surgery
August 2009 Gonbad, Iran
Reconstructive Surgery training
February 2010 Jimani, DR, and Port Au Prince, Haiti
Limb salvage reconstructive surgery for the survivors of the Earthquake
November 2011 Kabul, Afghanistan
Reconstructive Surgery training
March 2012 Ramallah, West Bank, Israel
Exploratory Training Mission
March 2013 Yangon, Myanmar (Burma)
Reconstructive Surgery training
November 2013 Mirebalais University Hospital, Haiti,
Teaching and educational reconstructive surgery training
January 2014 Sekou-Toure Referral Hospital, Mwanza, Tanzania
Post burn and trauma reconstruction training
November 2014 Sekou-Toure Referral Hospital, Mwanza, Tanzania
Follow-up trauma/tumor reconstruction training
March 2015 Sekou-Toure Referral Hospital, Mwanza, Tanzania
Setting up training for outcomes based reporting
December 2015 Mnazi Mmoja Hospital, Zanzibar
Training for burn contractures and breast surgery
December 2015 Kenyata National Hospital, Nairobi, Kenya
Visiting professor lectures and training for congenital defects
June 2016 Kenyata National Hospital, Nairobi, Kenya
Visiting professor lectures and training for first annual East Africa Training Summit in trauma, wounds, and congenital defects
July 2016 Mnazi Mmoja Hospital, Zanzibar
Training for burn contractures and breast surgery
June 2017 Coast General Regional Hospital, Mombasa, Kenya
Visiting professor lectures and training for second annual East Africa Training Summit in trauma, wounds, and congenital defects
July 2017 Mnazi Mmoja Hospital, Zanzibar
Training for burn contractures and breast surgery
Follow up outcomes research on 2015 patients
July 2018 CORSU Hospital, Entebbe, Uganda
Visiting professor lectures Director for training at Third Annual Africa Training Summit in trauma, wounds, and congenital defects
March 2019 ALERT Hospital, Addis Ababa, Ethiopia
Visiting Professor to set up training curriculum

July 2019 4th Annual African Regional Training Summit (ARTS)
Visiting professor and Lecturer and Trainor at the 4th Annual Regional Training Summit (ARTS) for trauma, complex wound care, and flap closures, Nairobi, Kenya
Visiting Professor And Invited Lectures
1. "What's new in Cleft Care", Department of Pediatrics Grand Rounds, Winthrop University Hospital and SUNY Stony Brook University visiting Professor Grand Rounds, February 2002

2. "Latest Advances in Microsurgery", Plastic Surgery International Visiting Professor Grand Rounds, Iran University Medical Center, Tehran, Iran April 2, 2002
3. "Multidisciplinary Approach to Cleft Care", Mazandaran University Medical Center Monthly Visiting Professor Series, Sari, November 25th, 2003
4. "Microsurgery in Cancer reconstruction" Nassau University Medical Center Department of Surgery Visiting Professor Grand Rounds, Dec 26, 2003
5. "Treating Algorithm for Complications from Periareolar Augmentation Mastopexy" Plastic and Reconstructive Surgery Visiting Professor Grand Rounds, The University of Chicago Hospitals, September 18, 2004
6. "Facial Artery Musculomucosal flaps for Large Palatal Defects", Plastic and Reconstructive Surgery Visitng Professor Grand Rounds, The University of Chicago Hospitals, September 18, 2004

7. "Recent Advances in Post-Traumatic and Post-Oncologic Reconstruction", Stony Brook University Visiting Professor Grand Rounds, Mineola, NY September 16, 2004
8. "Treating Complications from Periareolar Augmentation Mastopexy", 2nd International Iranian Society of Plastic, Reconstructive, and Aesthetic Surgeons, Tehran, May 14 2005
9. "Age-Management from Bench Research to Clinical Reality" 1st Congress of West Asia Society of Aesthetic Plastic Surgery, Tehran, May 16 2005
10. "What's new in Cleft Care", University Hospital Grand Rounds, Kurdistan, May 19 2005

11. "Using Autologous Breast tissue for support and superior pole augmentation in Mastopexy", Sino-American Conference on Mammoplasty, Beijing, China November 10th 2006
12. "Algorithm for treatment of complications in Breast Surgery" , Sino-American Conference on Mammoplasty, Beijing, China November 10th 2006
13. "Use of Bioabsorbable material in forehead rejuvenation", Sino-American Conference in Plastic Surgery, Beijing, China November 11th 2006
14. "Latest advances in Facial Diagnostics: Creating outcomes research in aesthetic medicine", Sino-American Conference in Plastic Surgery, Beijing, China November 11th 2006
15. "Repair of Large Cleft Palatal fistulas" Azerbaijan University Medical Center, Baku, Azerbaijan November 18 2008
16. "Novel Use of Perforator Flaps in Breast Aesthetic Surgery," St. Barnabas Medical Center, Livingston, New Jersey. May 18, 2012
17. "Post trauma reconstruction in the rural setting", Mirbalais, Haiti, November 8, 2013
18. "Principles of Plastic Surgery to improve patient outcomes in Tanzania", Sekou Toure Hospital Mwanza, Tanzania, January 24, 2014
19. "Perforator flaps in breast surgery" Mount Sinai Plastic Surgery grand rounds, New York, June 11, 2014
20. "On Line video interviews for plastic surgery residency" Mount Sinai Plastic Surgery grand rounds, New York, June 11, 2014
21. "Evidence Based Surgical Management of Chronic migraines", New York University Medical Center Plastic Surgery Grand Rounds, October 22, 2014
22. "Innovations in Aesthetic breast surgery" New York University Medical Center Plastic Surgery Grand Rounds, October 22, 2014
22. "Business partnerships and integration into the plastic surgery marketplace", Cornell Columbia Combined Grand Rounds, November 3, 2014
23. "Can we obtain surgical cure of Migraines"; Cornell Columbia Combined Grand Rounds, November 3, 2014
24. "Surgical approach to Migraines" Westchester Medial Center Department of Surgery Grand rounds, January 7, 2015
25. "Evidence Based Treatment of Chronic migraines" Westchester Medical Center Department of Neurology Grand Rounds, February 4, 2015
26. "Management of Complex Traumatic dog bites in children" Westchester Medical Center Department of Pediatrics Grand Rounds, March 18, 2015
27. "Evidence Based Surgical Management of Chronic migraines", Kenyatta National Hospital, Nairobi, Kenya December 17, 2016
28. "Innovations in Aesthetic breast surgery", Kenyatta National Hospital, Nairobi, Kenya December 17, 2016
29. "Repair of Large Cleft Palatal fistulas" Kenyatta National Hospital, Nairobi, Kenya December 17, 2016
30. "Principles of facial rejuvenations surgery and avoiding complications",
Kenyatta National Hospital, Nairobi, Kenya December 17, 2016
31. "Physiology of Wounds & Principles of Wound Management", Kenyatta National Hospital, Nairobi, Kenya June 20, 2016
32. "Indications & Peri-Operative Management Cleft Patient", Kenyatta National Hospital, Nairobi, Kenya June 21, 2016
33. "Cleft Palate Repair", Kenyatta National Hospital, Nairobi, Kenya June 21, 2016
34. "Bone Grafting Techniques for the Alveolar Defects", Kenyatta National Hospital, Nairobi, Kenya June 21, 2016
35. "Cleft Lip Revisions", Kenyatta National Hospital, Nairobi, Kenya June 22, 2016
36. "Fistula, Secondary Palate Repair", Kenyatta National Hospital, Nairobi, Kenya June 22, 2016
37. "Treatment of Velopharyngeal Insufficiency", Kenyatta National Hospital, Nairobi, Kenya June 22, 2016
38. "Evidence Based Surgical Management of Chronic Migraines", Westchester Medical Center Surgical Grand Rounds, July 20, 2016
39. "Novel Utilization of autologous flaps in Cosmetic Breast Surgery" Northeast Society of Plastic Surgeons Master Series workshop, March 25th, 2017
40. "What's new in Migraine Surgery?" Westchester Medical Center first annual Headache Symposium, April 8, 2017
41. "Outcomes based management of Chronic Pain", Bon Secours hospital Grand Rounds, Suffern, NY, June 6, 2017
42. "Aging in the New Age of Anti-Aging", Mid Hudson Regional Hospital Grand Rounds, Poughkeepsie, NY, July 12, 2017
43. "What's new in Migraine Surgery?" Westchester Medical Center second annual Headache Symposium, April 11, 2018

44. "Physiology of Wound Management and principles of success", Corsu University, Entebbe, Uganda, July 13, 2018
45. "Indications & Peri-Operative Management Cleft Patient", Corsu University Entebbe, Uganda, July 14, 2018
46. "CSI: Solving Wound Mysteries" Westchester Medical Center Surgical Grand Rounds, July 25, 2018
47. "Mission: Restore, On the front lines of Global Health" New York Medical college/WMC Health Network Surgical Grand Rounds, January 23, 2019
48. "Updates in Management of Complex Wounds ", Yakatit12 University Hospital , Ethiopia, February 28, 2019
49. "Essential Surgery in global medicine", Georgetown University Medical Center, Washington, DC, July 24th 2019
50. "Evidence Based Management of Headaches with Surgery", Cornell University Medical College, New York, September 3rd, 2019