Healthy-looking skin is vital for a young-looking appearance. As sun damage, wrinkles, and scars accumulate, the skin can look increasingly aged—which is why repairing that damage can have the opposite effect. For patients seeking a solution that combines results with minimal downtime, Dr. Kaveh Alizadeh offers the versatile and effective Sciton® Halo™ at his New York-area offices.
Some skin treatments remove the outermost layers of skin. Others rejuvenate it from the inside. Sciton® Halo™ features lasers can do both for a customized treatment that minimizes impact and recovery time, while maximizing results. The key is in choice: Patients are free to consult with our team and choose the option that best suits their goals and lifestyle.
To find out more about Sciton® Halo™ in New York, schedule an appointment with Dr. Kaveh Alizadeh today. Request your appointment online, or phone 212.348.0100 (Manhattan) / 516.439.5010 (Long Island).
Benefit from Light Treatments in Long Island, NY, Customized to Your Needs
Sciton® Halo is ideal for treating signs of aging and damage from ultraviolet radiation and the environment, including lines and wrinkles, scars, hyperpigmentation and spots, textural and tonal irregularities, large pores, and more. Treatment with Sciton® Halo™ is frequently recommended to correct all of the above while minimizing post-treatment downtime. Sessions are highly customizable, with the operator working to target the precise depth where skin damage appears.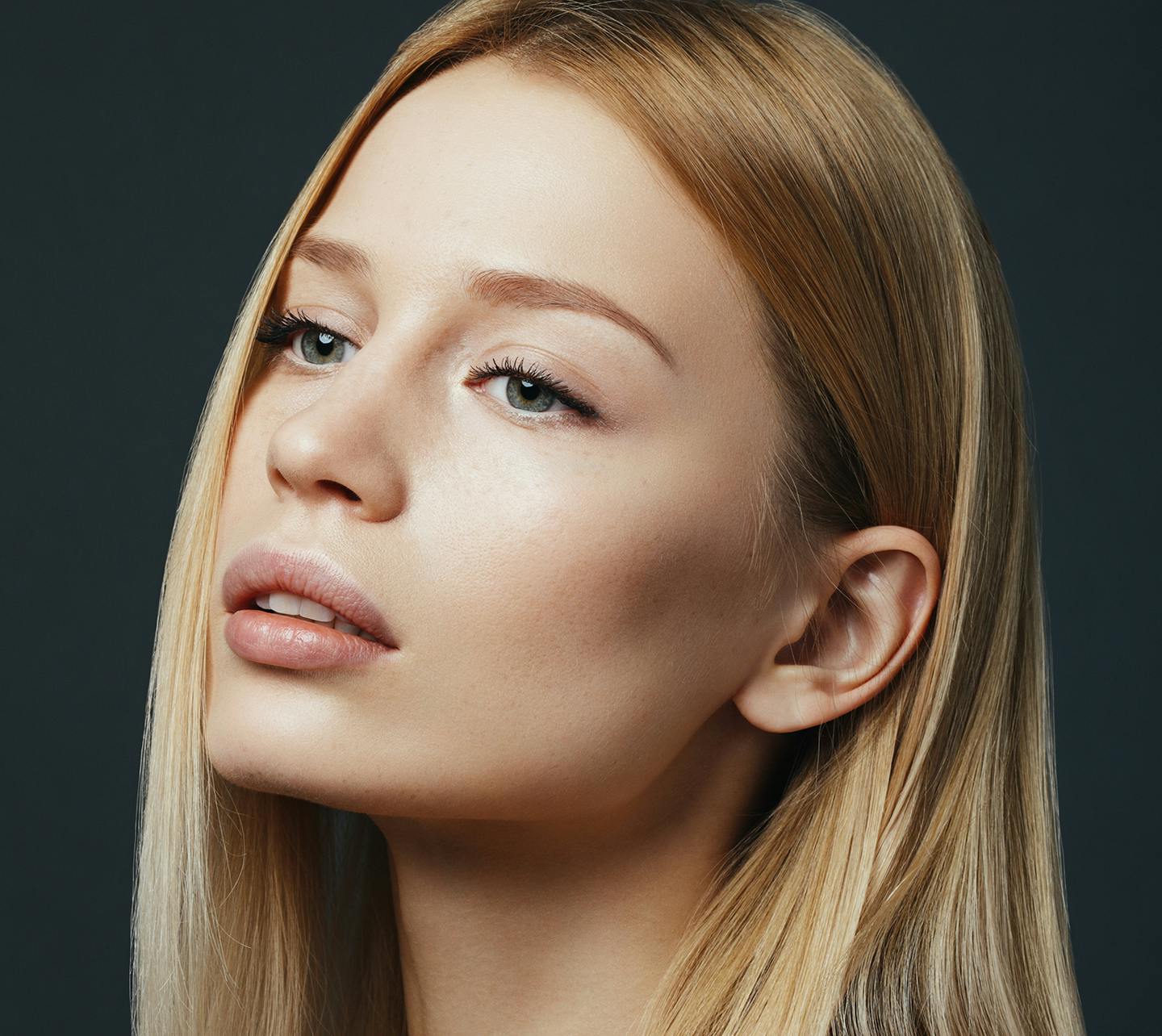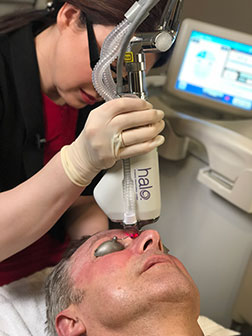 How Does Sciton® Halo™ Work?
Ablative treatments generally provide more dramatic results, as the topmost skin layers bearing unwanted spots and marks are removed and newer, fresher skin is encouraged to grow. This treatment can lead to a dramatic change in the quality of the skin but does require necessary downtime for the healing process.
Non-ablative treatments stimulate production of collagen, which is a crucial element in healthy and youthful-looking skin. Collagen is depleted over time in the skin, leading to loss of structure and fullness, as well as the development of fine lines and wrinkles. Nonablative treatments can also reduce red and brown pigments in the skin while providing fast recovery without damaging the layers above. Results are noticeable, and regular sessions can lead to a more youthful glow in the face.*
Sciton® Halo™ is the world's first hybrid fractional laser, which combines the benefits of ablative lasers (which remove the top layers of skin) and non-ablative lasers (which pass through the upper layers to affect the dermis collagen). This duality lets patients determine the intensity of their treatment session, as well as the post-treatment recovery time that best suits their schedules. The dual laser options capable with Sciton® Halo™ capitalize on modern technology, so even the more intense sessions have a healing window that can last mere days.
Healing is more rapid with Sciton® Halo™ than possible with other "one size fits all" treatments because it takes the skin layer's healing abilities into account. The outermost layer, the epidermis, heals quickly, as it forms the body's primary barrier against the elements and works to close up any wounds, no matter how small, as soon as it can. The deeper dermis has a longer timeline of recovery, which takes the form of remodeling as collagen spreads more evenly.
What is Sciton®
Halo™ Session Like?
Shortly before the Sciton® Halo™ session begins—generally half an hour to an hour prior—patients may receive a topical anesthetic to reduce sensation in the targeted treatment area.
The various benefits of Sciton® Halo™ can be delivered via a single, effective pass from a specially designed hand-piece. This device is made to roll over the skin and cool it throughout the treatment, which patients sometimes describe as feeling like a prickling heat. Internal technology coordinates the even application of energy and the ideal duration of the treatment. The system itself uses sophisticated technology to determine when the treatment is sufficient.
The number of Sciton® Halo™ treatments necessary for achieving desired results depends on the patient's personal needs, determined by goals, timeline, and other factors. For faster results, the best option may be fewer, more aggressive treatments. Patients who are looking for effects that can gradually appear over a longer period of time may choose to spread out a series of more gentle sessions.
What Should I Expect After a Sciton® Halo™ Session?
Patients who choose Sciton® Halo™ may experience a warm sensation in the skin for another 15 minutes to half an hour after their session ends. This is natural and expected, and may last even longer after more intense treatments that impact the deeper levels.
Skin should stay covered and protected for at least 24 hours after a Sciton® Halo™ session, as solar radiation can cause damage to newly sensitive areas. Treated skin on the body may also start to peel in this time, while facial skin will more likely not show any signs of change at first. Facial treatments more typically result in bronzing after two or three days, after which the skin can peel.
As the old skin flakes away, a newer, smoother, more even layer is revealed underneath. Patients should feel free to resume their typical daily activities—even wearing makeup—once a day or so has passed.* The initial look is expected to continue to improve in the following weeks and months as collagen levels rise in the skin, providing more of a sturdy, flexible framework for moisture-loving hyaluronic acid, as well as volume for a healthy-looking fullness. The most dramatic reduction in pigmentation problems can take two to three weeks after a Sciton® Halo™ treatment. How Long Do Sciton®
Halo™ Results Last?
Keep in mind that Sciton® Halo™ is not an injectable to be gradually absorbed by the body, nor a muscle-relaxer that allows contractions to resume again after several months. The light-based treatment triggers the creation of new collagen and promotes literal physical healing in the skin.
Results can last years, under the right conditions—which include regularly using proper UV protection. Further Sciton® Halo™ treatments can yield further improvements. Talk to Dr. Kaveh Alizadeh's experienced team to plan for a vibrant, youthful look not just in your immediate future, but for the long term.
What Does Sciton® Halo™ Cost?
Since every patient comes to Alizadeh Cosmoplastic Surgery with unique needs, each plan will be individualized in terms of intensity and frequency of treatments. Cost is best discussed during a private consultation, which is also a great time to get answers to any questions about Sciton® Halo™ and clearly establish the desired ultimate aesthetic outcome. More Nonsurgical
Rejuvenation Options
In addition to Sciton® Halo™, Dr. Alizadeh offers a range of nonsurgical treatments designed to help patients look younger, more relaxed, and rejuvenated. When it comes to injectables, BOTOX® Cosmetic relaxes wrinkle-causing muscles in the forehead and beside the eyes, Juvederm Voluma® XC adds volume to the apple of the cheek with an aim to produce rounder contours and a subtle lift for the lower half of the face, and Kybella® addresses fat cells that create a double chin.
Find out how Sciton® Halo™ can help you toward your aesthetic goals by scheduling your consultation with Dr. Kaveh Alizadeh today: Request your appointment online or call 212.348.0100 (Manhattan) / 516.439.5010 (Long Island).
*Patient results may vary from person to person.