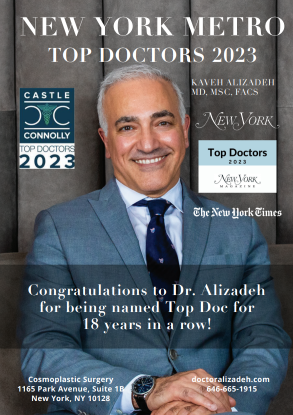 When considering complex cosmetic or medical procedures, choosing the right doctor is of the utmost importance. This choice can greatly impact the results of the treatment and your overall well-being. With his various awards and accolades, Dr. Alizadeh is one of the most highly-respected doctors in the greater New York City area. Patients from all over the five boroughs, New Jersey, Long Island, and Connecticut visit his offices to experience some of the best care New York has to offer.
Why is it important to choose a validated and award-winning doctor?
Unparalleled expertise: Validated and award-winning top doctors, such as Dr. Alizadeh, have demonstrated their expertise in their respective fields. They have undergone rigorous training, gained extensive experience, and are continually keeping up to date with the most recent developments in the world of cosmetology and plastic surgery. This expertise is crucial when it comes to complex medical procedures.
Consistent quality: Top doctors have a track record of delivering consistent, high-quality results to their patients. They achieve this by maintaining very high standards in their practice. This commitment to excellence provides patients with the assurance that they are in capable hands.
Advanced techniques: Award-winning doctors are always looking to incorporate the most cutting-edge techniques and technologies into their practice, ensuring that patients benefit from the latest advancements in medical science. These advancements ultimately lead to improved outcomes, reduced recovery times, and a more comfortable patient experience.
Proven results: Award-winning doctors like Dr. Alizadeh have a track record for success that instills their patients with confidence. These results are not only a testament to their skills but also offer patients a glimpse into the potential outcomes of their own treatment.
Dr. Alizadeh: one of the most trusted names in NYC plastic surgery
Dr. Kaveh Alizadeh is a name synonymous with excellence in the medical field. With numerous accolades, awards, and recognitions under his belt, he embodies the qualities of a validated and award-winning top doctor. Here are some of the reasons why Dr. Alizadeh stands out:
Board-certified: Being board-certified means that he has undergone rigorous training and assessment in his field, ensuring that he provides only the best care possible to his patients.
Innovative research: Dr. Alizadeh is not only a practicing surgeon but also a respected researcher. He has made contributions to his field that have resulted in new methods of treating various conditions.
Patient-centered care: Dr. Alizadeh takes a patient-centered approach to medicine. He takes the time to understand the unique needs and concerns of each of his patients, ensuring that each treatment plan is tailored to their specific situation.
Philanthropic endeavors: A mark of every great doctor is a dedication to giving back to the community. Dr. Alizadeh takes great pride in his nonprofit organization, Mission: Restore, which provides free healthcare to patients in need.
Reputation matters: Alizadeh is known for excellence
Choosing a validated and award-winning top doctor, such as Dr. Alizadeh, is a decision that can positively impact your health and overall well-being. His expertise, commitment to achieving remarkable results, innovative techniques, and patient-centered approach are invaluable in ensuring you receive the best possible care. When your health is at stake, it is vital that you choose a doctor with tried and true skills.
Dr. Alizadeh is renowned for the following achievements:
He serves as Professor of Clinical Surgery at New York Medical college

He has trained over 100 surgeons in plastic surgery and is the oral examiner for the American Board of Plastic Surgery.

He has published dozens of peer reviewed articles and given over 100 international lectures and presentations in his specialty.

He has served as primary clinical trial investigator for the FDA for many devices used in surgical and non-surgical procedures.

He has taught his techniques to hundreds of surgeons in 27 countries worldwide and provides free healthcare via his non-profit organization called Mission: Restore.
Contact our office today to set up a private consultation with Dr. Alizadeh.